Easy, Budget-Friendly Bathroom Updates
Are you getting the renovation bug? Usually around spring and summer time, we get the urge to reorganize, redesign, and renovate our homes. While the idea of house updates sounds fun, you quickly learn the process is more complex than you thought, especially when it comes to choosing and staying in your budget! Having a budget should not mean compromising how satisfied you are with the final result. Our design mission at Persnickety Interiors is to enhance our clients' homes by creating beautiful, timeless, and fulfilling personal spaces – while staying true to the homeowners' personality and always within their budget! 
When it comes to budgeting a bathroom renovation, we advise you to start with the little things that will drastically change the look and feel of the room. Budget-friendly changes include paint color, lighting fixtures, hardware sets (towel bar, paper holder, towel ring, etc.), and shower fixtures. Let's take a look at a few of these and help you on your way to a new and improved bathroom! 
Walls
The walls of your bathroom are the largest design canvas we have to work with. Updating paint color instantly changes the look and feel of any room, especially smaller spaces like bathrooms. In any design project, remember to keep your personal style in mind. Do you want your bathroom to feel more open and brighter? We recommend going with white or a lighter paint color to expand the feel of the room. If most of your accents are white and you want a pop of color for the walls, we recommend playing with blues and greens to find the perfect color. If painting doesn't thrill you, we're huge fans of wallpaper in small spaces! Wallpaper adds patterns that you can't get with paint.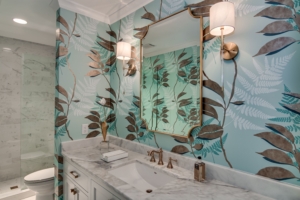 Light Fixtures
Besides wall color, the second biggest update you can make to your bathroom is the lighting. Unfortunately, many bathrooms don't have great natural lighting from windows due to privacy. If you don't want to spend a fortune on adding windows to brighten your bathroom up, take the lighting fixtures that are already there and update them! You typically want your lighting fixtures to flow with the hardware and mirrors. For example, glass fixtures bring a touch of elegance to a bathroom and typically go with chrome hardware sets. If you have black hardware, look for a sleek, black lighting fixture to go along with it. When you're updating all of these items, keep that color flow in mind for the big picture! 
Hardware Sets
Your bathroom hardware is what you're going to get the most function out of, so you might as well make it pretty! Hardware includes everything from cabinet handles, towel rings, paper holder, to towel bars. Do some research in styles you like with hardware sets. You could go rustic, vintage, modern, or pick some pieces you like at a local antique store! 
Accessorize
Put the paint brush and screwdriver down, here comes the fun part! Updating accessories like towels, rugs, and shower curtains is an inexpensive to get a new look out of your bathroom. Just like your hardware, you want your accessory colors to flow with the entire room. Sticking to white is always a safe option, but remember to stay true to your style and personality!