Let's talk about Accent Walls. This is one of the fastest and most inexpensive ways to bring that extra something into your space. There are so many interesting and creative ways to make this happen. This summer when you are craving a fun and exciting change but don't want to go through the trouble of redesigning an entire room, choose an accent wall. Like we said before there are so many creative options for an accent wall so we want to introduce you to a couple and hopefully, we can inspire that change that you have been needing!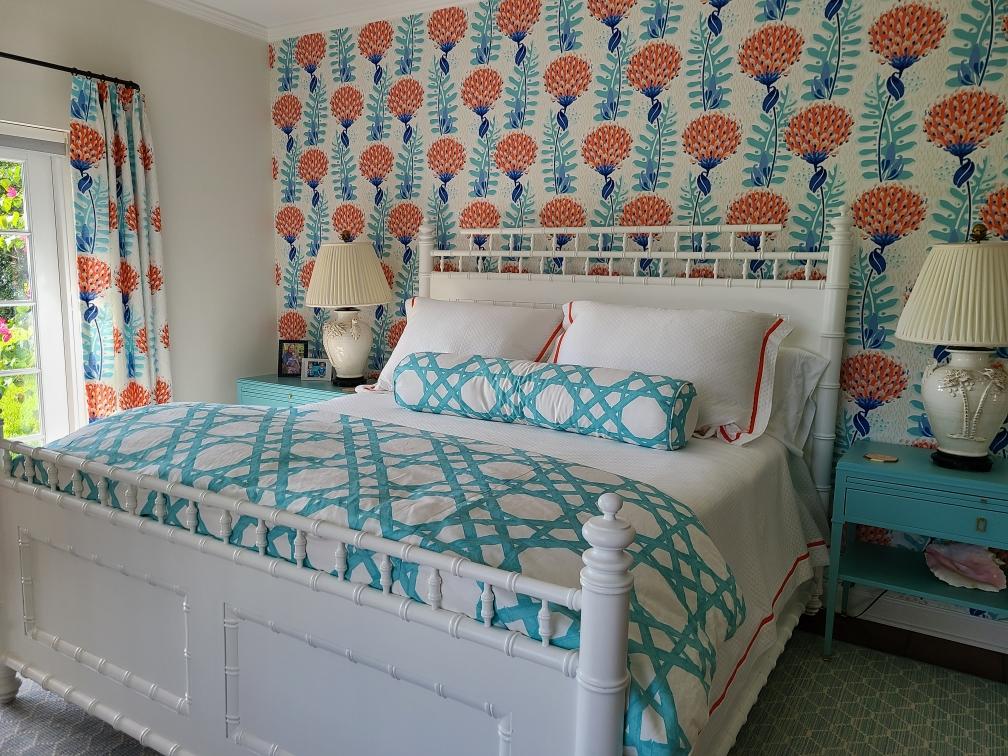 Wallpaper
Tale as old as time…Wallpaper. Just because it has been available to us for so many years, doesn't mean that it has been phased out. The evolution of styles and designs is incredible. We have personally put together some beautiful rooms with fun and modern patterns. For example, remember when we did this gorgeous Coastal Color Pop? It is fun and colorful, and we even got window treatments to match. The sky is the limit when you are living in a time of endless options.
 

Paint

The most obvious choice is to head on over to your local home improvement store and start looking for the color or colors that speak to you. You can choose a more simple approach and just do a solid wall, or you can get artistic by painting a pattern. Just remember, if you don't feel brave enough to have a whole accent wall, you can always settle with having an accent piece of furniture. Don't feel pressured. Did we mention that there is chalkboard paint? Who wouldn't love a chalkboard accent wall?
Geometric Wall
This concept is really trending right now and it is hard not to obsess over it. Depending on the style and design you come up with, you can get slats of wood from your local home improvement store and cut them to size to create a pattern on your accent wall. You have the option of painting your accent color first and then staining the slats for a more organic look. You can also lay the slats in your pattern first and then paint over everything with your accent color. This trend is super cute and we love that it permits you to be innovative and come up with your own pattern or idea.
Faux Brick
We know that it's not realistic to assume that many people have the option of an exposed brick wall in their home. It's just not the way homes are built these days. Luckily, this is another place we can fall back on that wallpaper we were talking about earlier. There are some incredible, seemingly real, options for having the exposed brick look in your home. It gives a very rustic look and feels and we highly recommend checking out this option.
There are so many ways right now to get creative and switch up your normal vibe. We encourage you to take a look at everything trending on "Accent Walls' and you will not be disappointed. There is a price point that will fit anyone. We hope you feel inspired! Reach out to us if we can help make your vision a reality!